World Cleanup Day in Berlin: Marc Krüger ist JCI EverydayChangemaker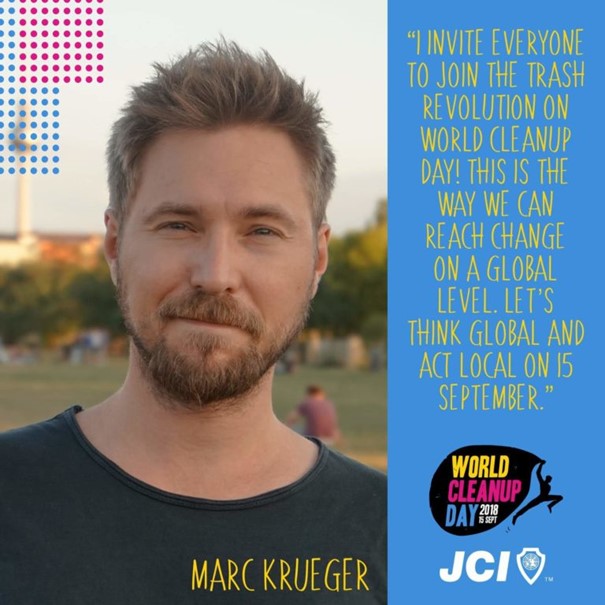 World Cleanup Day 2018 in Berlin
Marc Krüger, langjähriges Mitglied bei den Wirtschaftsjunioren Berlin, angegliedert an die Junior Chamber International (JCI), war einer der drei Gewinner der JCI Trash Hunter Challenge und hat eine Cleanup Aktion im Volkspark Friedrichshain in Berlin am 15. September 2018 organisiert. Unter der über 80 Teilnehmern waren auch Diplomaten, wie z.B. der esthnische und indonesische Botschafter und auch die jüngsten: der jüngste Trashhunter war drei Jahre alt. 
Deshalb wurde Marc Krüger auf der JCI Seite gefeatured und auf sein Engagement hingewiesen:
This week, we have a special edition for our #EverydayChangemaker series! We'd like to feature our three JCI Trash Hunters winners from the JCI 10-week Waste Mapping Challenge.
We asked Nele Buysmans from Belgium, Marc Krüger from Germany and Gafar Olorunleke Odubote from Nigeria to tell us why they will be cleaning up our world tomorrow for World Cleanup Day!
See what our #JCITrashHunters had to say. #WorldCleanupDay #LetsDoIt
"I invite everyone to join the trash revolution on World Cleanup Day! This is the way we can reach change on a global level . Let´s think global and act local on 15 September. "

Marc Krüger